안넹, it's blogging time again! My sem-break is damn f-boring :-( Darn! I feel like wasting time at home, but I don't wanna back to college's life! Gonna have my drivers license test with boyfie's sis soon! Thinking to work part-time job, still looking for it... Hmm... Y YOU NO SPONSOR ME!?(got influenced by Cheesie) Recently downloaded lotsa Japan anime, cartoon movies and etc.(Pirated? I don't care! Shhh...) Any good movie/anime recommended? Comment me please!
Yeyy, just started my Korean(Hangul) language class on last Friday! I was so excited :-D I learnt vowel and consonants on first lesson. It's pretty hard to pronouns and gonna work hard on memorize and master it! Me gonna speak fluent in Korean language! Perhaps I can work in Korea in the future, who knows? Hehe.
After class, went to Chatime@Time Square with a friend who also learning Hangul with me :-D I think I'm gonna be a full-time Chatimer since my Hangul class started, at least once a week? lol.
Pearl Milk Tea always my first choice!
♥
never get bored of it :-P
Didn't really camwhore that day... a lil bit regret though! Head home after walked around @TS, doing nothing, nothing to buy, nothing special in TS! BORING!
At night, went to eat Durians buffet with boyfie and his buddies at PJ SS2, RM15 per person eat till vomit, lol. After that, had a yumcha session with them, happy and satisfied! Actually,I felt so unwell after ate Durians due to didn't eat anything from morning till evening, except Chatime during afternoon! Diet what :'(
On the same day, morning I received a call from a postmen, finally, got my parcel! ♥
Hehe, aren't they look cute?
♥
Interested? Email me cherishaeyan@gmail.com
Then the next day, had a simple date with him ♥ as he promised to bring me out to The Curve!
Zoom in:
Before we went home, we had a light meal - Popilla@Ikano :-P
Check out my shopping haul of the day
♥
From left to right(clockwise): Face Roller, Hair Fragrance, False Eyelashes, Brusher & Blusher!
The end!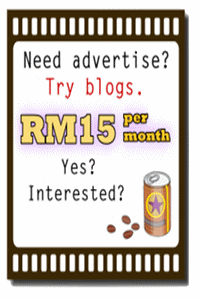 Wanna promote ads on my blog?
RM15 per month only!
Yes I'll help you to do an advertorial/ads post on my blog and put an ads(200x200 pixels) beside my blog list for 1 month!
Interested? Please email me at cherishaeyan@gmail.com :)